Hello, it's been a while since last update! Let's talk about it.
There have been many projects in the burner (some new Asset Packs) and it's been daunting to come back to this due promises. So for 2022 I'm doing a revision for this asset pack (worry not, all the original content stays!).
Poses were fun idea to give more fascinating angles but in the end were just more work for something that would see use for very specific set of cases (also they were cropped). I won't rule side-profiles in the future.
Blanks another diversion, trying to give more varying bases for more freedom of self artistry but I think I have found better way to do this now.
Now let's talk briefly about the revision! I have began working on redoing the human portraits in different style: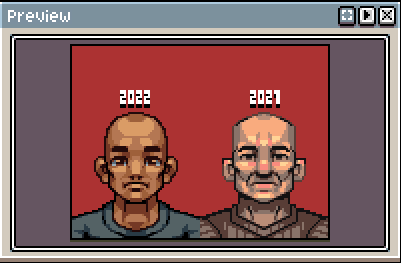 The original human sprites stay as they are and free, but revision will be only included in the Add-On pack. The plan is to revisit all the four human portraits and add hairstyle variation.
Thanks,
Aivopiru
Get Aivopiru Pixel Portraits